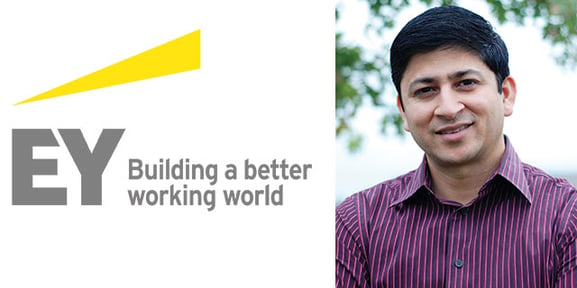 Yogesh Khandelwal, President and Chief Executive Officer of geoAMPS, is a finalist for the prestigious Ernst and Young Entrepreneur of the Year 2016 Award in the Ohio Valley Region.
The award recognizes entrepreneurs who demonstrate excellence and extraordinary success in such areas as innovation, financial performance and personal commitment to their businesses and communities. The finalists were selected by a panel of independent judges.
"I am honored to have been selected a regional finalist in the Ernst and Young awards program. It is humbling to have been chosen along with 24 outstanding business leaders in the Ohio Valley Region," Yogesh said. "This is an honor I share with our geoAMPS team. Each day, I am amazed by their commitment to build upon our reputation as the premier provider of software solutions to manage land rights and infrastructure assets."
The Ohio Valley Region of the Ernst and Young award program encompasses businesses in Kentucky, Indiana and southwest Ohio, including the metropolitan areas of Columbus, Dayton and Cincinnati.
One of only seven
Yogesh is one of seven business leaders in Central Ohio to be named a regional finalist.
This year marks the 30th anniversary of the award program. Over that time, the Entrepreneur of the Year program has expanded to recognize business leaders in more than 145 cities in 60 countries throughout the world.
Yogesh and other regional finalists are invited to attend the Ohio Valley Region awards gala on June 23 in Detroit, Mich., at the Detroit Institute of Arts. The Ohio Valley Region award winners will be announced at that event.
The regional award winners will move on for consideration in the Ernst and Young Entrepreneur of the Year national program. Award winners in several national categories, as well as Entrepreneur of the Year Overall National Winner, will be announced at the National Awards gala in Palm Springs, Calif., on Nov. 19.
The U.S. Overall Winner then moves on to compete for the World Entrepreneur of the Year Award in Monaco in June 2017.
geoAMPS founder
Yogesh is the founder and inspirational leader of geoAMPS. The company was launched in 2011. He turned his passion for innovation into building software that would soon become the industry standard for managing land rights and infrastructure assets. Starting with one software product, Yogesh led the development of 10 additional industry-specific software products. geoAMPS offers software products for oil and natural gas, renewable energy, land services, utilities, survey, government, document management, telecommunications, land reclamation, road transportation and rail transportation industries. geoAMPS solutions are available across Web, mobile and GIS platforms, providing maximum flexibility and deployment options.
geoAMPS has grown rapidly. Today, the company provides products and services to industry-leading organizations throughout the United States and Canada.
geoAMPS introduced mobile technology to the land services industry, which enabled companies to develop their mobile workforce. geoAMPS' unique data migration process helps organizations advance from paper-based processes and recordkeeping. The process involves transferring information from various sources and formats into one format in a single software solution.
Yogesh is an engineer with a diverse background in technology across various industries. With more than 15 years of experience in database customization and implementation, his leadership helps companies implement standardized processes, bringing efficiency and optimization to land rights and infrastructure asset management.
Yogesh holds Master's Degrees in Civil Engineering from the University of Toledo and The Ohio State University.
Business Journal newspapers honored Yogesh with selection to Forty Under 40 in Central Ohio in 2013 and Who's Who in Energy in 2013 and 2014. geoAMPS was recognized among the Healthiest Employers in Central Ohio for 2014, 2015 and 2016. The company also received the Offshore Excellence Award from the United Kingdom-based publication Acquisition International in 2015 and 2016. geoAMPS was named one of the 20 Most Promising Utilities Technology Providers in 2015.
Community outreach
Yogesh leads a strong community outreach program at geoAMPS. The company and its employees have supported the American Red Cross, Veterans of Foreign Wars Ohio Charities, Mid-Ohio Foodbank, Humane Society of Delaware County, American Cancer Society, MLS Foundation, Salvation Army, American Federation of Suicide Prevention, Columbus Literacy Council and International Justice Mission.
In 2015, the company was recognized for its community outreach program by being named a finalist for a Corporate Caring Award in Central Ohio.
Ernst and Young is a global leader in assurance, tax, transaction and advisory services. The insights and quality services the company delivers help build trust and confidence in the capital markets and in economies the world over.
Want to learn about how geoAMPS solutions can benefit your organization? Visit www.geoamps.com or call 614-389-4871.
Dan Liggett is Communications and Public Relations Consultant for geoAMPS.