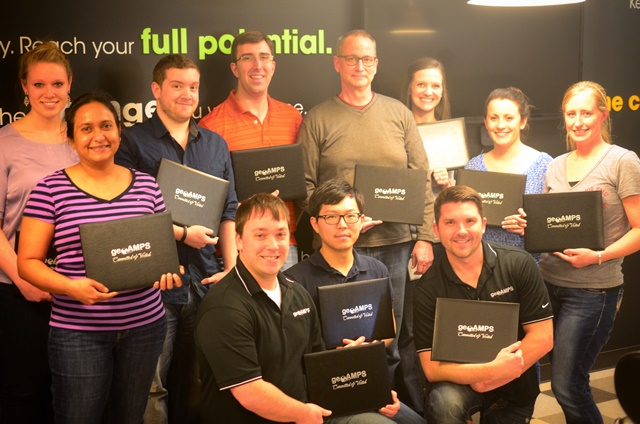 geoAMPS offers a Stock Appreciation Rights (SARs) program to reward employees for longevity of service and their commitment to helping to build the company.
"Our employees are our greatest assets," Yogesh Khandelwal, President and Chief Executive Officer of geoAMPS, said. "This Stock Appreciation Rights program is designed to reward and encourage their continued employment with us and provide them the opportunity to share in the growth of the company."
The program is based upon the award of SARs to each employee who has been with the company for at least one year.
Employees are given the opportunity to purchase SARs through pre-tax payroll deduction. The value of the SARs purchased one year is determined by the strength of the company in terms of year-end earnings and the number of outstanding shares of common stock. Due to the rapid, dramatic growth of geoAMPS, the Fair Market Value of a SAR has increased substantially.
Located in the Columbus, OH area, geoAMPS is the premier provider of software solutions to manage land rights and infrastructure assets. In only its fourth year of operation, geoAMPS has experienced substantial growth. It now serves clients throughout the United States and Canada.
geoAMPS offers 11 software products, each of which is highly configurable to meet each client's needs.
Yogesh commented that a major reason for geoAMPS' growth and success is the work of skilled and committed employees.
"The purpose of the SARs program is to provide geoAMPS employees the opportunity to take ownership in the company that they are helping to build," Yogesh said.
The SARs program is just one of the advantages afforded geoAMPS employees through a caring, fun company culture.
The company's Health and Wellness program is one of the best in Central Ohio. For two consecutive years, geoAMPS was an honoree in the Healthiest Employers of Central Ohio awards program. geoAMPS provides yoga classes and massages onsite as well as prizes and other incentives for committing to good health habits.
Company employees also enjoy fun activities outside of work, such as holiday parties, volleyball, softball and bowling.
geoAMPS employees are encouraged to participate in community activities and outreach. The company and its employees have given generously to a number of charitable causes and nonprofit organizations, including the American Red Cross, Veterans of Foreign Wars Ohio Charities, Mid-Ohio Food Bank, Humane Society of Delaware County, American Cancer Society and the Salvation Army.
Dan Liggett is Communications and Public Relations Consultant at geoAMPS, the premier provider of software solutions to manage land rights and infrastructure assets. For more information, call 614-389-4871 or visit www.geoamps.com.